The All New RW Bumper Series™
Reduced Weight, But Just as Heavy Duty!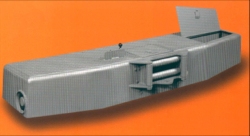 The RW Bumper Series™ is the engineered result of creating a winch/bumper package to be lighter and more aerodynamic while retaining all the strength and durability demanded by the utility industry. Available in 10,000; 12,000; 15,000; 20,000; and 30,000 lb line-pull capacity models.
Add dp to your next truck specification.
Lighter Weight--Same Strength and Stability

Pulls Continually Without Overheating

More Versatile and Exceeds Competition

Built with the Winch User in Mind

Best Value for Your Fleet

150 lb. Weight reduction (Model 20)

STANDARD FEATURES:

Highly Efficient Planetary Gearing

Extended Shaft for Capstan or Collapsible Reel

Independent Operation of Extended Shaft and Winch Drum--a dp WINCH Exclusive

Spring Applied/Hydraulic Release

Dual Hydraulic Brake Valve

Controlled Lowering of Load in Both Directions

STANDARD BUMPER FEATURES:

Engineered for Reduced Weight While Retaining All Strength and Durability

Fully Fabricated from Plate Steel

Quick and Simple Installation

Bolts Directly to Truck Frame

Heavy-Duty 4-Way Roller Fairleads